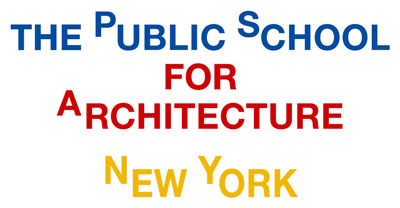 The Public School (for Architecture)
New York
The website for the Public School (for Architecture) New York is up and running. There may still be a few graphic adjustments to make, but the organization of the site is in place. So, to all of you who have been invited to participate in the pre-registration period of the NY school, you can now visit the site http://nyc.thepublicschool.org/, register as a member of the New York school and browse, propose, discuss, comment.
A few notes about the site and the Public School in general. There are other cities besides New York involved in the Public School project. New York is the only location with an emphasis on architecture. Please make sure that you affiliate yourself with the New York school when you register. There is a forum through the website that allows members to view and discuss proposals from other cities. If you spend some time on the forum you may get an idea of what types of classes have been scheduled for other locations. Feel free to use this as inspiration for suggest something completely different.
Classes for the Public School (for Architecture) will be held at 3 different temporary locations. Class size is estimated to be 20 people max. and 5 min. Classes will be scheduled once members express an interest in the class, and the committee (made up of common room, Telic and members of the affiliated institutions) find an instructor for the class. October classes will be scheduled first, followed by November and December. Each session will run for a period of two weeks.
If you are proposing a class, it can be a one-time course or a series. A series could occur once at each location, over 3 months, or it could be scheduled as a series at one location. Proposals do not need to be limited to the classroom location, but each class should plan on starting at the classroom site, or have some reference to the class location for each month. Classes for October will be based at the Center for Architecture. The Van Alen Institute will host classes in November.
An open house at the Teachers Lounge (at the Van Alen Institute) is planned for the end of September. We'd like to have a variety of course offerings by that point in order to schedule the first session of classes for October. Please send us questions or post them on the site and we will include them in the FAQ about the Public School (for Architecture).
Thanks for all the enthusiastic response so far,
Todd, Maria and Lars
--
common room
465 grand street 4c
new york, ny 10002
t: 212.358.8605
f: 212.358.8609
www.common-room.net