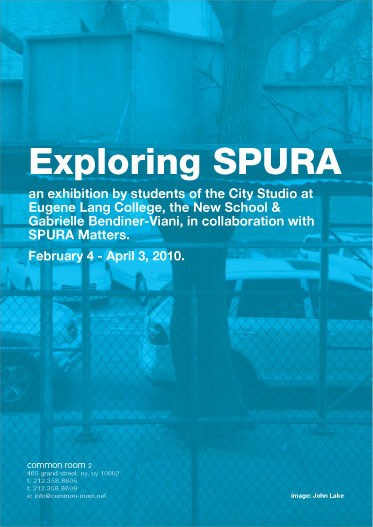 Exploring SPURA
an exhibition by students of the City Studio at Eugene Lang College, the New School & Gabrielle Bendiner-Viani, in collaboration with SPURA Matters.
February 4 - April 3, 2010
Opening Reception:
Thursday February 4, 6-8pm

---
The Seward Park Urban Renewal Area (SPURA) is the largest undeveloped city-owned parcel of land south of 96th Street, and it has been a contested site since it was cleared for "renewal" more than 40 years ago.
Please join us at a new exhibition by the New School's City Studio, Exploring SPURA, which delves into the experience of living at SPURA now - the resources and restrictions - as well as the stories of today and the experience of the SPURA diaspora, displaced many years ago. The exhibition springs from the City Studio's research in the community and hopes to continue encouraging productive conversation about the site�s future.
The question of SPURA is a timely one, as plans for its development are in discussion once more at the Community Board. Come join the conversation!
The City Studio course of the Urban Studies department, Eugene Lang/New School explores the life of a small urban space, through archival, ethnographic, visual and participatory research.
The 2010 City Studio creators of Exploring SPURA are: Sarah Charles, Jamie Florence, Leijia Hanrahan, Anke Hendriks, Lila Knisely, John Lake, Claudie Mabry, Katie Priebe, Adam Schleimer, Kaushal Shrestha, Emily Winkler-Morey and Hannah Zingre. Gabrielle Bendiner-Viani is the course professor and exhibition curator.
SPURA Matters is a visioning project for the SPURA site to get people talking about SPURA's future. It is a collaboration between Good Old Lower East Side, Pratt Center for Community Development, and City Lore.
Good Old Lower East Side (GOLES) (www.goles.org) was founded in 1977 and is a neighborhood housing and preservation organization, dedicated to tenants' rights, homelessness prevention and community revitalization through organizing and advocacy.
The Pratt Center for Community Development (www.prattcenter.net) empowers low- and moderate-income communities in New York to plan for and realize their futures. As part of Pratt Institute, it uses urban planning, architecture, and public policy to support community-based organizations in their efforts to improve quality of life, create economic opportunity, and advance sustainable development.
Place Matters (www.placematters.net) was founded in 1998 by City Lore (www.citylore.org) and the Municipal Art Society (www.mas.org) to foster the conservation of New York City's historically and culturally significant places. It conducts a citywide survey called the "Census of Places that Matter" to discover places that evoke associations with history, memory, and tradition.
---
common room 2
465 Grand Street - rear lobby
New York, NY 10002
tel.: 212.358.8605
www.common-room.net

open hours: mon-fri 9am - 6pm
or by appointment
Directions:
Take F train to East Broadway stop. Exit at rear of platform if coming downtown or front of platform if coming from Brooklyn. Walk East on East Broadway just past Pitt Street. Use Rear Entrance on East Broadway.
Map link:
http://www.onnyturf.com/subway/?address=465+Grand+St,+New+York,+NY+10002
--
common room
465 grand street 4c
new york, ny 10002
t: 212.358.8605
f: 212.358.8609
www.common-room.net