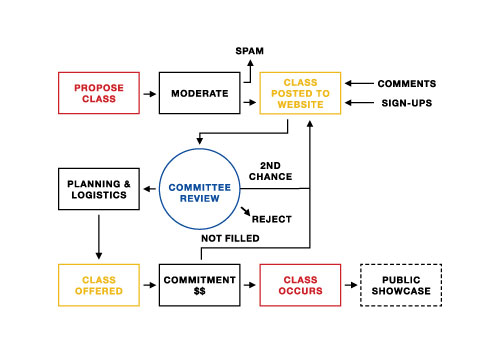 The Public School process diagram
The Public School (for Architecture) New York
a Van Alen Institute New York Prize Fellowship project by common room and Telic Arts Exchange
Open House:
Wednesday September 30, 7-9pm
Van Alen Institute
30 West 22nd Street, 6th Floor
New York, NY 10010
PROPOSE CLASSES NOW at http://nyc.thepublicschool.org
Please join us for the Public School (for Architecture) New York's inaugural Open House and launch of the Teachers Lounge at the Van Alen Institute. Through the duration of the fellowship term, the Teachers Lounge will serve as a resource for the Public School (for Architecture) faculty, and a meeting place for School participants to discuss classes, curricula, and related topics of interest. Following Wednesday's Open House, the lounge will be open to the public each Wednesday, 10am-5pm, through December 9, 2009.
During the Open House, visitors will be able to meet the instructors, sign up for classes, propose classes and discuss current and potential class topics with Public School administrators.
Fall Schedule:
September 30: Open House
October 13-25: Class Session I
November 1-22: Class Session II (in collaboration with Performa, as part of Performa09, the third visual art performance biennal)
December 1-11: Class Session III
The Public School (for Architecture) New York is a self-organizing educational program for which the curriculum and schedule are proposed by the general public. Administered by common room and the Telic Arts Exchange in collaboration with Performa, courses will be taught throughout New York City as itinerant installations during Fall 2009. The curriculum will be developed through public access to its website. Enrollment is open to non-architects and architects alike. The project locates areas where new ideas are possible, suggests ways that architecture can be engaged even while financial support is diminishing, and seeks to identify and activate a community of users beyond affiliations to a single organization. In doing so, the school aims to create a public for architecture while opening up architecture for the public.
Visit http://nyc.thepublicschool.org to propose classes, comment on or register in a class, offer to teach a class, and find out when and where classes will take place.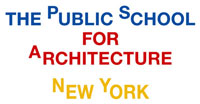 The Public School (for Architecture) New York is a Van Alen Institute New York Prize Fellowship project and is supported in part by the Andy Warhol Foundation for the Visual Arts and the Annenberg Foundation.
--
common room
465 grand street 4c
new york, ny 10002
t: 212.358.8605
f: 212.358.8609
www.common-room.net