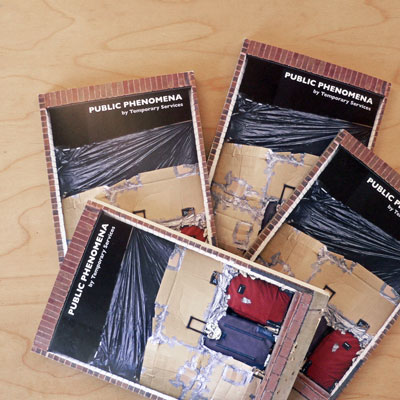 Public Phenomena - book
Public Phenomena
Temporary Services
Book Launch + Discussion with Brett Bloom, Joseph Heathcott and Damon Rich
Thursday March 26, 7pm
at
common room 2
465 Grand Street - rear lobby
(entrance on East Broadway)
Please join us for the launch of the first Half Letter Press publication.
The book Public Phenomena is the result of over ten years of photographic documentation and research on the variety of modifications and inventions people make in public. From roadside memorials to makeshift barriers, people consistently alter shared common spaces to suit their needs, or let both man-made and natural aberrations run wild. The result is a new kind of public space – with creative and inspiring moments that push past the original planned design of cities.
Images and text by: Temporary Services, Polonca Lovsin, Joseph Heathcott & Damon Rich, Bostjan Bugaric, Ana Celigoj, Masa Cvetko, Marko Horvat, Meta Kos, Darjan Mihajlovic, Danijel Modrej, Maja Modrijan, and Sonja Zlobko.
Following a short introduction to the book by Brett Bloom, Damon Rich and Joseph Heathcott will discuss their research into how communities effectively organized against racist city planning and bank policies and the marks this left on the spaces and history of the city.
Heathcott and Rich contributed an essay to the book Public Phenomena. Their research into banks' redlining practices in Chicago overlapped with some of the public phenomena Temporary Services had documented, namely the block clubs signs one finds predominantly in African American neighborhoods on the south and west sides of Chicago.
---
Half Letter Press is a publishing imprint and an experimental online store initiated by Temporary Services. Temporary Services is a group of three people (Brett Bloom, Salem Collo-Julin and Marc Fischer). Temporary Services has published booklets as an element of their collaborative work since 1998. They created Half Letter Press to publish and distribute book and booklet length works by themselves and others. They are interested in using this endeavor to build long-term support and expanded audiences for people that work creatively in experimental ways. They are particularly interested in supporting people and projects that have had difficulty finding financial and promotional assistance through mainstream commercial channels. (www.halfletterpress.com)
Joseph Heathcott is a writer, curator, and educator living in New York, and is an associate professor of urban studies at The New School.
Damon Rich is an urban designer and founder of the Center for Urban Pedagogy (CUP). He lives and works in Newark, New Jersey.
---
common room 2
465 Grand Street - rear lobby
New York, NY 10002
tel.: 212.358.8605
www.common-room.net
Directions:
Take F train to East Broadway stop. Exit at rear of platform if coming downtown or front of platform if coming from Brooklyn. Walk East on East Broadway just past Pitt Street. Use Rear Entrance on East Broadway.
Map link:
http://www.onnyturf.com/subway/?address=465+Grand+St,+New+York,+NY+10002
--
common room
465 grand street 4c
new york, ny 10002
t: 212.358.8605
f: 212.358.8609
www.common-room.net